Writing a dissertation may take years to write. Naturally, when you complete it, you want everyone to love it. There are a lot of things one needs to keep in mind while designing a book cover, such as:
the color and shading of the entire thesis cover,

illustrations and images you use,

fonts you use for the title of the book, and

the name of the author (that is you).
You may not have considered several such aspects earlier.
As a Masters or Ph.D. student, you cannot always afford a professional designer to design the thesis cover for you. However, several web tools allow you to come up with most basic to most advanced book cover designs in a matter of minutes.
It is to be noted that the title of your book and the design of your cover should be harmonious. The cover should send a clear message about what your book is about. Unlike fiction book covers attract readers by appealing to their emotions, research works and non-fiction books need to stimulate or intrigue the mental faculties of their readers.
Things you should keep in mind while designing a thesis cover are:
Designing the Book Cover
Research the most popular books on related topics that are selling well in the market – and note their layouts, images they use, font choices, and color schemes.
On the back cover, you might also want to include blurbs and reviews. You might want to note down how other researchers have designed their book covers and use that as inspiration for creating your cover.
Some great places to search for book cover ideas are Pinterest boards and pins and the Amazon bestsellers. Save the ones you like – and use them as the inspiration for your design.
Web Tools You Can Use
Here are the most popular web tools to design books and their covers – starting from the most basic one to the most advanced self-publishing tools:
1.) Book Cover Creator by ReadWriteThink
ReadWriteThink offers this excellent tool to design front page, front and back page, or a full dust jacket quickly. It has text tools to help you format the title of the book and the notes easily, drawing tools to allow you to add original images and illustrations, and the feature to add shading to the background areas.
Book Cover Planning Sheets in this tool can be used as templates to inspire your designing work while printable PDFs help you visualize how your book cover will look like.
2.) Paint.net
An ideal tool for Windows-based PCs and laptops, Paint.net is a free image and photo editing software that is comparable to Adobe Photoshop quality wise. Highly recommended by several users for its top-notch tools and full support, it offers different layers and special effects.
It has an intuitive user interface with quite an active and friendly online community, tutorials, and plugins.
3.) Book Cover Maker by Canva
Research students who would like to create their book cover designs to save money or time must try this tool. It is entirely free and can help you create stunning book cover designs. It is easy-to-use, has over 1 million free images and graphics that you can use, and also pre-made book cover templates and layouts that can help you come up with your front page cover in minutes.
You don't have to be very tech-savvy or very aesthetic to use it. Just choose the dimensions of your book, fix the images from the gallery or the ones you've uploaded on the website, use filters to fine-tune the look of your book and edit the text.
4.) Inkscape
This free and open source tool is a professional vector graphics editor that can be used with Windows, Linux and Mac OS X too. It has the flexible and powerful drawing and text tools, shape tools, layers, image gallery, and tutorials also.
Inkscape is the tool to choose if you are looking to include lovely Bezier and spiro curves in your book cover design or are looking for broad file format compatibility.
One of the best things that it uses Scalable Vector Graphics (SVG) and can help you with all through the design process cycle – from the doodles on a napkin to the final professional design.
5.) Adobe InDesign
A professional desktop publishing software by Adobe Systems, InDesign CC is an advanced page design and layout app that can be used to make book covers as well as entire books, interactive PDFs, ebooks, posters, brochures, digital magazines and much more.
Equipped with professional layout and typesetting tools, it is rich in graphics, tables, images, and typography. The best part is that this app has inbuilt tools to collaborate with your peers, seniors, and mentors and seek their advice on the book cover design you have chosen.
Decide on the Dimensions of the Book
A bit of research on Amazon will showcase that the cover width and ration may vary widely. While the Amazon recommends you to use the 1.6:1 size ratio but you may experiment with different cover sizes and see what suits you best.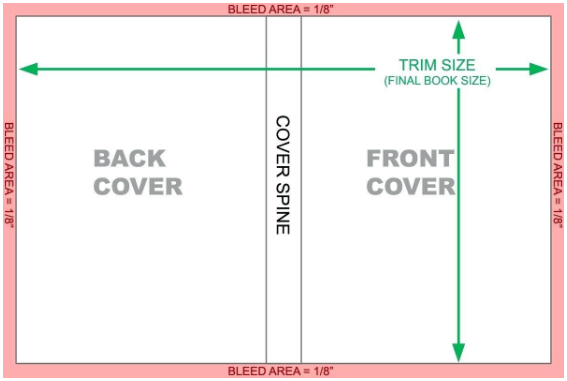 Similarly, the page size of your book will define the size of the cover you would design for it. As a research student, you may want to discuss the dimensions of your book with your mentor.
You may also check out the dimensions of the books your peers and seniors have come up with and may use it to evoke the positive perception of your book in the scientific and academic communities.
The Title is Your Logo
One thumb rule to decide upon the font for your book title is to stick to the ones that are most popular with the academic communities and steer clear of the flashy and decorative ones. It is best to avoid the drop shadow fonts or the over-used typographies for the book title. Author name is usually smaller and in simpler font than the title of the book.
The color of your text is important too, but you don't need the pop-out effect for research work. The font color should naturally contrast with the background color of our book.
Before you walk out of the door and hand over your book to the publisher, get an idea of what your book cover will look like as a thumbnail. If your research gets published, your readers should be able to find it online and be able to tell what it is about in one glance.
Using these book cover designing tips will undoubtedly help you in getting your research work accepted and sold successfully – and help you win laurels for your hard work.